The project is focused on creating a high-quality bench power supply that is modular in construction and easy to build for the DIY'er but will offer features more often found on professional equipment.
Articles
Part 1 – Project Overview
Part 2 – First Regulator Tests
Part 3 – A working regulator (with stability issues)
Part 4 – A working constant voltage, constant current regulator
Part 5 – Range and resolution calculations and tables
Part 6 – Current Affairs and Sensitivity
Part 7 – DAC Attack!
Part 8 – ADC meets DAC and some video to prove it!
Part 9 – Programming resolution achieved – and then some
Part 10 – First PCB and more improvements and circuit changes
Part 11 – Significant Design Changes for more Precision
Part 12 – The first PCB and Thermal Management
Part 13 – More design changes and measurements
Part 14 – Dynamic Response Improvements and Measurements
Video
View the YouTube video playlist for the project
Photo's
Photo's covering the development of the Bench PSU regulator described in Part 4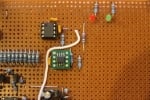 This content is published under the Attribution-Noncommercial-Share Alike 3.0 Unported license.